Craps Odds: Functions and essentialities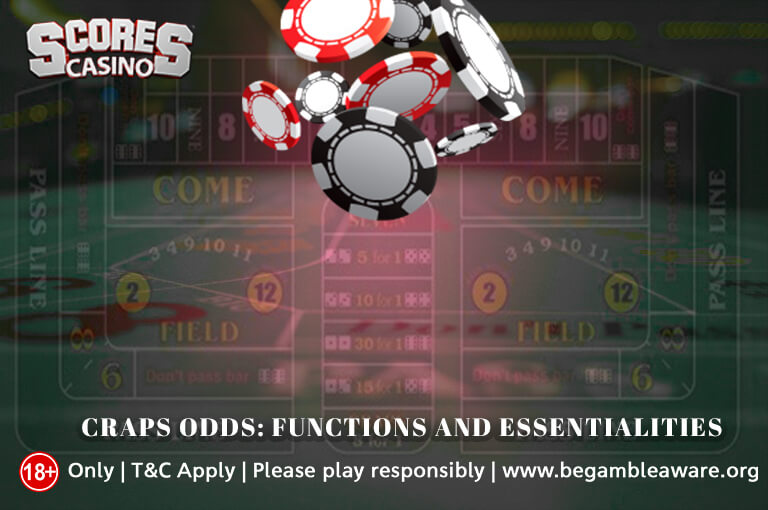 Craps is one of the most exciting casino games that is offered by all the major casino sites, and online craps are just as exciting as the one seen in movies and TV shows.

But craps can be intimidating for a beginner. The table seems to have various kinds of bets, the players are interacting with each other using lingo, and the pace is very fast to ever ask a question.

If this is how you view the game, there's a piece of good news for you. Playing craps online is less confusing than playing in a land-based casino, and each bet offers different odds that make the gameplay even more exciting.

Getting an understanding of the craps odds and how to play craps is an essential part of the game. It allows you to make the correct bet at the right time, thus improving your odds of winning.

As such, we've prepared this article that explains everything about craps odds. Read on!
Pass line bet
The Pass is the most common and the most straightforward bet used at NJ online casinos. Almost every player uses it at some point during the gameplay, and it's here where you see the most action.

The pass bet is placed on the pass line itself on a come-out roll. Players can tell it as a come-out roll if there's a black laminated marker on the table that says "off". If the come-out roll is a 7 or 11, players win even money. If the come-out roll is a 2, 3, or 12, then they lose. If any other total (4, 5, 6, 8, 9, or 10) is rolled, it's called "the point".

Once the point has been set, the marker will flip to "on". The dice continue to roll until the number is signified as the point for the game. If they hit that number, the table wins and pays out even money. If a 7 is rolled, then the player loses, and the game resets.

Many high rollers suggest not to make a pass bet after the come-out roll. Of course, the rules allow you to do so, but it will only reduce the value of your wager and negatively affect the house edge for the pass. So, it's always best to wait until the game resets.

Pays: 1 to 1.

House edge: 1.41%.

Odds: 251 to 244.
Don't Pass
As the name suggests, the Don't Pass bet is the opposite of the Pass bet. Here you bet on the opposite results.

So, If the come-out roll is a 2 or 3 then, you win, while a 7 or 11 will result in a loss. If a 12 is rolled, then, the bet is regarded as a push. The dice is rolled over and over again until the point line is a hit or 7 lands.

A person using this bet is called a "wrong bettor" and is usually winning when everyone is losing and vice versa. This doesn't have the same effect online, but it's fun to use in live dealer games.

The odds for both Pass and Don't Pass bets are almost identical.

Pays: 1 to 1

House edge: 1.36%

Odds: 976 to 949
Craps
A craps bet is another proposition bet. It covers when the croupier rolls a 2, 3 or 12, and is a simple win or lose bet before the come in.

It's also referred to as the hedge bet as it covers some numbers that most players betting on the pass would lose to if it landed. But there is still a combination of numbers that don't work for this bet, meaning it is far from perfect.

As this bet offers a house edge of 11.11%, it's one of the highest proposition bets that you can get. But some games payout at odds of 7.5 to 1 instead of the traditional 7 to 1. This, in turn, reduces the house edge dramatically, making it just 5.56%.

While this appears to be a good bet, you'll probably make more money by not betting on it and continuing with the come outs alone.
Taking the odds
The Odds is a unique bet in any casino, let alone craps online. The reason for this is that it has a zero house edge. This means that the odds offered on this bet are fair and true.

The Odds is a side bet in craps made after a point is thrown. It pays if the point is thrown before a 7, you can bet on a range of outcomes that are grouped, each with different odds. The odds are highlighted below.
6 and 8 = 6 to 5
5 and 9 = 3 to 2
4 and 10 = 2 to 1
When using this bet, it's important for you to note that there will be restrictions on the amount that you can wager. This is because the casino doesn't make any money from this bet. Also, if you get a casino bonus which has wagering requirements attached to it, this bet likely won't count towards any clearing requirements.

Pays: Same as Odds

House edge: Zero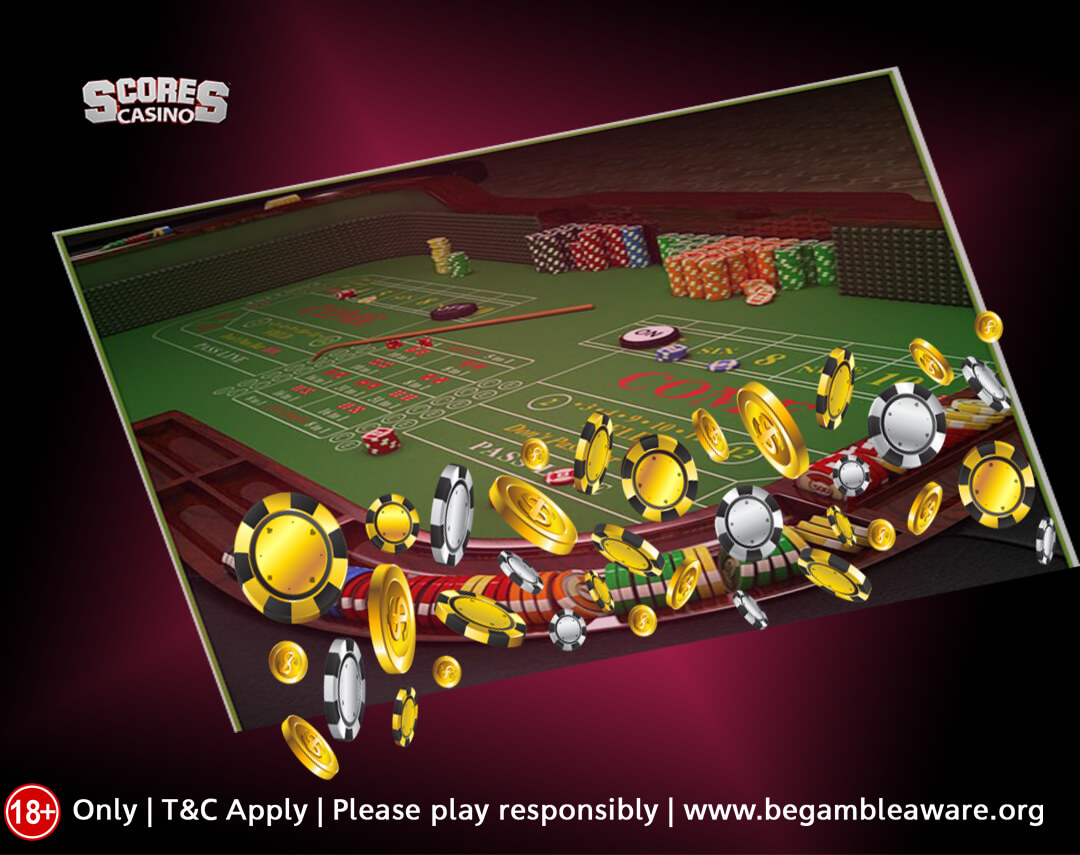 Place Bets
In craps, 4, 5, 6, 8, 9 and 10 are known as the Place numbers. The player can bet on these numbers as a single bet, and if they roll before a 7, the bet wins. These are pretty simple bets, so they are very popular among players across the globe. Each number has its own odds, which are based on the likelihood of the number to be drawn that has the lowest odds.

Pays: 6 to 5 on 6 and 8; 7 to 5 on 5 and 9; 9 to 5 on 4 and 10.

House edge: 4 and 10, 6.67%, 5 and 9, 4.00%; 6 and 8, 1.52%.

Odds: 7 to 6 on 6 and 8; 7 to 5 on 5 and 9; 9 to 5 on 4 and 10.
Lay bets
The Lay bets work oppositely to the place bet. In other words, you bet on the Place bet to lose.

Essentially, you are betting on the 7 to appear before a range of numbers. The odds offered on this bet are the same as the Place bet but in reverse. Also, these bets come with a commission, which differs from casino to casino. Generally, it's around 5% and is based on a win only. Some casinos apply the win-only commission to the 4 and 10 bets.

Pays: 6 to 5 on 6 and 8; 3 to 2 on 5 and 9; 2 to 1 on 4 and 10.

House Edge: 6 and 8, 2.27%; 5 and 9, 2.00%; 4 and 10, 1.67%.

Odds: 7 to 6 on 6 and 8; 7 to 5 on 5 and 9; 9 to 5 on 4 and 10.
Big 6 and 8
The Big 6 and 8 are exactly like the Place bets on 6 and 8, respectively. For this, you are choosing that either 6 or 8 will be rolled before 7.

The craps odds strategy to use Big 6 and 8 is one of the worst that you can get. This is because this bet on its own pays even money.

Pays: 1 to 1.

House Edge: 9.09%.

Odds: 6 to 5.
Hard Ways
When a number is rolled as a double, it's said to have been rolled the hard way. A hard 6, for instance, is a double 12. This is how this type of bet got its name. These are pretty simple bets and are based on certain doubles being rolled before 7.

Players can bet on any of a hard 4, a hard 6, a hard 8 or hard 10. If the relevant hard number is rolled before the 7, the bet wins. As with other types of wagers, the payouts are determined by the number bet on.

Pays: 6 and 8, 9 to 1; 4 and 10, 7 to 1; 2, 30 to 1.

House Edge: 6 and 8, 9.09%; 4 and 10, 11.11%, 2, 13.89%.

Odds: 6 and 8, 10 to 1; 4 and 10, 8 to 1; 2, 35 to 1.
Field Bets
The Field bet is a one time bet that the next roll will be 2, 3, 4, 9, 10, 11 or 12. All wins pay 1 to 1, expect 2 and 12 pay more. The 2 pays 2 to 1 and the 12 pays at 3 to 1. It's important to note that the odds for these can change. Some online casinos only pay 2 to 1 on both results, which increases the house edge from 2.78% to 5.56%.
3 or 11
The 3 or 11 bet is quite similar to the Field bet. The only difference is that it is limited to the 3 or 11, which are rare numbers in craps. The house offers an edge of 11.11, making it one of the casinos best earner bets.

Pays: 15 to 1.

House Edge: 11.11%.

Odds: 17 to 1.
Summary
As you can see, an extensive range of bets is available for craps players. The odds offered by each bet can also seem overwhelming, especially if you're a novice player.

It's important to note that you don't need to know all the odds associated with each bet. You can include some of them in your casino strategy, and then start using more bets when you become more comfortable with the gameplay. Happy gaming!