ScoresCasino.com offers players a variety of safe and secure deposit methods to quickly fund your online casino account with real money.
However some banks and credit card companies still have iGaming restrictions in place that may not allow you to use your debit or credit card for online gaming. If you are experiencing a difficult time depositing into your ScoresCasino.com account, we encourage you to contact our player services team for assistance.
Below we've listed the deposit methods in order of success rates.
Instant ACH Bank Transfer
Instant ACH Bank Transfer is the easiest and most reliable method for depositing real money at ScoresCasino.com. Simply provide your bank routing and account number from the bottom of your check and you'll instantly be able to safely and securely deposit into your your account.
PayPal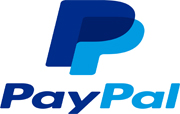 PayPal is now available at ScoresCasino.com, providing you with a fast and secure method to make deposits and withdrawals from your ScoresCasino.com account. When you deposit with your Verified PayPal account, all of your financial information is kept secure. If you don't have a PayPal account, you can create one here.
Visa / MasterCard

Due to individual banking restrictions, deposits with Visa and MasterCard often have lower success rates than the other methods listed above. In some instances though credit and debit cards work great for depositing at ScoresCasino.com. Please note that additional costs and/or fees may be assessed by your card issuer pursuant to your cardholder agreement.
Online Banking

Online Banking is the newest option available for secure deposits directly from your bank account's Bill Pay feature into your ScoresCasino.com account.
Simply select the Online Banking method, the amount you would like to deposit and your bank of choice. From there, simply log in directly to your financial institution to complete the transaction. Once your bank has verified the funds are available, it will release the deposit immediately into your ScoresCasino.com account. Click Here To Learn More
PayNearMe

PayNearMe is a quick and convenient way for you to fund your gaming account with cash at 7-Eleven and have instant access to your deposit. Click Here To Learn More
NETELLER

Once you have established a NETELLER account, using NETELLER to deposit funds at ScoresCasino.com is effortless. You will be able to deposit funds into your NETELLER eWallet using a credit/debit card or bank transfer and then into your ScoresCasino.com players account. As a third party payment processor NETELLER will assess transaction fees when depositing funds.
Borgata Cashier

You can deposit cash directly into your ScoresCasino.com online players account at any cage within the Borgata Hotel Casino & Spa and your funds will be immediately available. All players using this deposit method will be required to show
valid I.D. and have proper account information at the time of deposit.